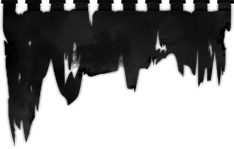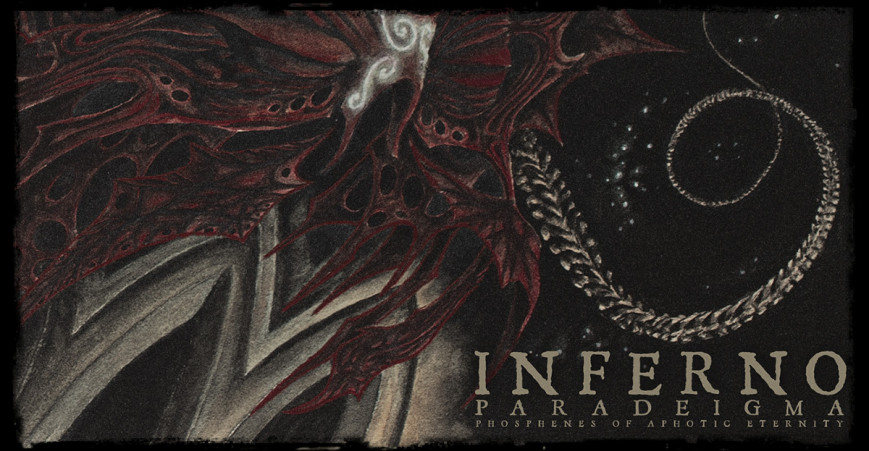 2021 Retro - INFERNO
In the fifth part of our annual "retrospective" series, we take a closer look at INFERNO's newest work of Art, "PARADEIGMA (Phosphenes Of Aphotic Eternity)". Check the other already published pieces of our retro blogposts by clicking on the band name: THE AMENTA, AARA, FORHIST and ANARKHON.
Being active since the year 1996, INFERNO is one of the oldest and most respected Black Metal bands from Czech Republic. Their discography (seven albums and many smaller releases) displays a continuous will and drive to develop their Art and to leave behind trodden paths. This can also be said about their latest album which manifests in a completely different musical way than its predecessor "Gnosis Kardias (Of Transcension And Involution)". "PARADEIGMA (Phosphenes Of Aphotic Eternity)" is an ambitious long player which once more broadens INFERNO's musical borders and limits and which marks the beginning of the collaboration with Debemur Morti Productions.
The six compositions evoke sinister and majestic soundscapes in which it is easy to get lost, as DMP's Jonathan describes:
"Being a long-time follower of INFERNO's Art, I have learned not to expect anything when the Black Metal band unveils new music. Expectations usually only interfere with the listening experience and the willingness to let yourself become touched by Art. "PARADEIGMA (Phosphenes Of Aphotic Eternity)" starts calmy and surrealistic, only to lure you in before blast attacks, eerie melodies, spherical soundscapes and experimental layers of noise grant the listener a sneak peek at the dark birth of the universe. Concerning the production, the way the songs are composed and arranged to the general flow of the album, nearly everything shows a new and different side of INFERNO when compared to "Gnosis Kardias (Of Transcension And Involution)". During the 35 minutes long compositions, INFERNO mix different elements in an unusual way, oscillate between a wide array of influences as well as manage to keep the spherical and cosmic atmosphere alive and audible during each second. It is also rare that a cover artwork so perfectly illustrates the musical atmosphere of an album. Together, the musicians behind INFERNO, producer Stephen Lockhart as well as visual artist Elijah Tamu truly managed to craft a "Gesamtkunstwerk". Thus, "PARADEIGMA" needs to be listened to as a whole without interruption to develop its full potential and meaning!"
INFERNO review the year 2021 and the release of their new album collectively:
"Our activities in 2021 revolved around the album's promotion and its live presentation. The actual release was accompanied by a sense of relief and pride as it was really nice to see "PARADEIGMA (Phosphenes Of Aphotic Eternity)", the album in which we invested so fucking much, to be released in such a grand form and to receive so much attention. Yet at the same time, to coordinate between the promotional work and our personal lives was pretty hectic, not to mention that we wanted to present the album live in its whole and this task alone was already an exigent one. But all this bore its fruit since we had to look at our creation from various interesting perspectives which is contributing to our future work. And last but not least, we were lucky to perform four great concerts around Europe, culminating with the appearance at Icelandic festival Ascension MMXXI."
The future is already being crafted, with INFERNO preparing new live-shows and working already on new material:
"We will play live accordingly to the situation. Two concerts in Netherlands have been confirmed for January, in summer we will perform at Enter The Eternal Fire festival in Czechia and more is being negotiated. However, we have decided to make the next long player a priority as no one and nothing outside the band can easily interfere with this. The new album is already gestating in a highly fertile soil. Thanks to the work on "PARADEIGMA", the chemistry in the band has never been so great before and we already view this album as a solid steppingstone towards the next work. We have some fresh musical ideas, and the conceptual foundations are also being laid down slowly.
There is yet another dreadful dimension to be discovered through electrifying abstractions and contemplations. We will experiment with creative approaches once again and nurture the inner hunger to manifest something truly overwhelming and sinister. Hopefully, this time, the gap between the albums will be shorter but nothing is certain when you jump into the unknown, is it?"
The album can be listened to on Bandcamp as well as on our YouTube channel. It can be ordered via our EU, US and Bandcamp shops.
Posted on
12-28-2021
| Category: Inferno