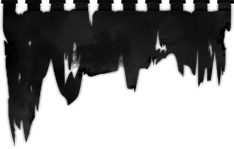 Originating in 2003 after the arctic summoning of the ancient astral Anti-God "Råvaskieth", IMPERIAL CRYSTALLINE ENTOMBMENT was manifested through the hypothermic possession of four unwilling dead souls. Their identities died the minute their hearts were ripped from their chests and cast upon the whirling winds of the "Crystalline Blisserred Shrine".
Driven by the inherent will of timeless hatred to freeze all Worlds and return the Universe and all of its Dimensions to the original bleak, empty void of colourless cold death, "IceSickKill", "Blisserred", "Bleak" and "Mammoth" vowed to stop at nothing until this frozen wasteland was achieved.
The now infamous "Apocalyptic End In White" album was conjured in 2004 and released on its unsuspecting victims with extreme violence as the first wave of cryonic encapsulation. After years of spreading pummelling, hopeless extinction upon the earth with the use of their supreme brand of sonic devastation, I.C.E. was called by the instinctual pull of the "Great Orbital Råvaskeith" to return their bodies to a hibernative state, while their energies were displaced onto other distant planets and within four alternate entities, who have been spreading the cold white death further amongst the stars.
20 years have now passed and the repetitive howling shrieks of the "Astral Frost Invocation" from the loyal mortal servants below, have opened the archaic portal and reanimated I.C.E. once more to reign over Earth and begin the second wave of convulsing frigid annihilation.
Awakening within caverns of ice and snow, I.C.E. have returned from the abyss, across the frozen emptiness of space! All shall perish! Your children shall continue to be abducted and skinned under the piercing blizzard winds of the Arctic Aurora, until the vast army of ghastly "Lycanthropic Banshee Hordes" arrive!