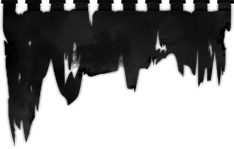 GODKILLER was founded by Duke Satanaël in 1994. The first demo, "Ad Majorem Satanae Gloriam", was released in December of the same year. It featured a mixture of Death and Black metal with already an evocation of the medieval era, as it is audible in the intro. The second demo, "The Warlord", was released in February 1995, and showed an evolution towards a style that would become GODKILLER's trademark: Black Metal with medieval-inspired sounds.
The demo caught the interest of Italian label Wounded Love Records (a division of Avantgarde Music). The first release from this partnership was "The Rebirth Of The Middle Ages" in 1996.
Always being interested in new musical inspiration and evolution, the next album needed to be different. On "The End Of The World", released in 1998, the tempo slowed down, the riffs became heavier, the atmosphere was less medieval-inspired, but still crepuscular, even more so. The lyrics dealt with personal, introspective subjects from a bleak perspective.
Finally, the last GODKILLER album, "Deliverance", was released in 2000. Once again, this album marked an evolution in style. The main characteristics of "The End Of The World" were kept, but the medieval atmosphere was almost entirely gone, replaced by a more modern, cold and clinical atmosphere. This last album was, in a way, GODKILLER's self-destruction, the point of completion as well as the point of no return.
In 2022, GODKILLER signed a deal with Debemur Morti Productions to reissue the two demos on CD and vinyl.