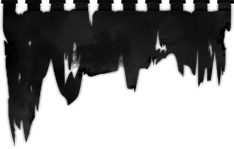 2021 Retro - FORHIST
In the third part of our annual "retrospective" series, we reflect upon FORHIST's self-titled debut album. Check the other already published pieces of our retro blogposts by clicking on the band name: THE AMENTA and AARA.
Unexpectedly ascending from the shadows, BLUT AUS NORD mastermind Vindsval decided to honor the primordial feeling and mood of traditional Black Metal with a new project. Once already used as a song title on BLUT AUS NORD's "Memoria Vetusta III: Saturnian Poetry", this new entity was adequately named FORHIST and released its self-titled debut on February 26th. Completed by a charming and mystical cover artwork designed by Dehn Sora (THROANE), FORHIST's first work of Art became a sinister and nostalgic journey back in time.
FORHIST's debut perfectly evokes the neo-romantic mysticism early Black Metal releases were famous for, as DMP's Jonathan narrates:
"Long players like SATYRICON's "Dark Medieval Times", EMPEROR's "In The Nightside Eclipse" or ENSLAVED's "Frost" initiated countless metalheads into the dark realms of Black Metal. Listening to those albums during one's formative years is nothing but a revelation. There is something unexplainable about it. Once hooked by this feeling and this fascination for sinister beauty and aggressive grandeur, it seems to stay with you forever. Vindsval has a unique ability to perfectly evoke such a mood in his music and almost immediately throws you back in time when nothing else mattered besides Black Metal. Nevertheless, FORHIST's debut is in no way a copycat of those classics but sounds in fact unique and creative. Compositions like the overflowing 'IV' with its calm acoustic parts or 'II' with the impulsive drumming and sublime beauty work with typical Black Metal elements but utilize them in an uncanny way. Thus, "Forhist" is a homage done right – honor the forefathers of Black Metal not by replaying their albums, but by creating an original work of Art!"
Vindsval discloses about the birth of FORHIST:
"It is very exciting to bring a new project to life and I am very satisfied with this first release, which lays the foundations for what FORHIST will become over the albums. The compositions, the sound and the artwork fit well together. It is a nice start that leaves a lot of possibilities for the future. Some people did not understand FORHIST's deliberately regressive approach, which will remain a more intimate project than BLUT AUS NORD anyway, but the album was very well received by the public."
Plans for the future of the project are already being made, as Vindsval continues:
"I have a lot of different ideas and desires for the second FORHIST album and nothing is really decided about it yet. I just want to continue to explore the feeling that was mine in the 90s when I immersed myself in the classic albums of SATYRICON, EMPEROR, DARKTHRONE and, more general, in everything that the Norwegian scene could offer during that time. This is what I want to rediscover with FORHIST, this very specific feeling of poetry."
"Forhist" can be listened to on Bandcamp as well as on our YouTube channel. It can be ordered via our EU, US and Bandcamp shops.
Posted on
12-25-2021
| Category: