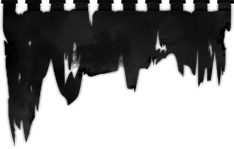 "The entity of SLIDHR is that of pure hopelessness and desolation. Scion of the Black Stream, flowing into hollow vessels and the miasma to all creatures of the earth. SLIDHR is the illumination of the hidden serpent, removed of its black shroud, draining the vitality of very existence itself.
An understanding of SLIDHR is an understanding of the overwhelming essence of death.
SLIDHR is the exultation to a dead realm, itself a spark in a realm of nothingness, so far removed from recurring banality. It is creeping death enveloping the empty body of man, a great plague decimating mortal unity."
Formed in 2005 and hailing from Dublin, Ireland, SLIDHR is an immersive maelstrom of venomously misanthropic Black Metal. The band's name derives from the Sliðr, a river flowing through Hel, the land of the dead in Norse mythology – a moniker which befits their dark enigmatic power.
Founded as a solo project by artist, tattooist and bassist/guitarist/vocalist Joseph Deegan, since 2013 the band has featured Icelandic drummer Bjarni Einarsson (SINMARA, ALMYRKVI) and more recently bassist Stefan Dietz.
Following the 2006 cassette release of "Demo 1" (Debemur Morti Productions), the band has unleashed two full-length albums – "Deluge" (2013, DMP) and "The Futile Fires Of Man" (2018, Ván Records) – in addition to two EPs and two split releases. The abyssal atmosphere of these records in combination with furiously intense select live performances at festivals such as Inferno, Prague Death Mass, Caledonian Darkness and Ascension has established SLIDHR as a force to be reckoned with.
A highly-anticipated third long player entitled "White Hart!" will be released via DMP at the end of 2023.