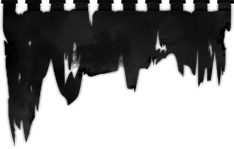 PESTILENT HEX – a curse that claimed our souls and plagued our dreams; a sound that still haunts and possesses us...

PESTILENT HEX is a new band hailing from Finland that drinks deep from the well of the second wave Black Metal tradition – balancing a fine line of symphonic elements but still being firmly rooted in Metal, nevertheless retaining high integrity and artistry.

The band consists of two people, perhaps more well-known from the Death and Doom Metal circles, yet Black Metal is something that has flowed in their veins since the mid-nineties and it constitutes a praxis they grew up with.

The idea of this band was born out of the necessity to pay dues to the genre that formed the musicians and their musical sensibilities. But more importantly, from the ambition to craft a vision of their own what this Art should sound like.

"The Ashen Abhorrence" is the band's first release. It took them five years of arduous labor and maddening inspiration to complete it. It is a concept album musically and lyrically, that dwells into Faustian aspirations, witchcraft, possession, and the realm beyond – ending in harrowing results.