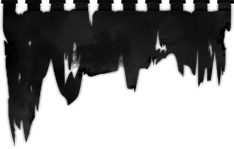 WHITE WARD, from Odessa, Ukraine performs intensely deviant music of a noir shade.
Formed in 2012 and taking root in raw depressive Black Metal, the band rapidly shed all boundaries, taking inspiration from an array of dark atmospheres including the writings of H.P. Lovecraft and I.M. Banks. The band's excellent early recordings were compiled into the "Origins" compilation released in 2016.
Exploring themes of borderline death states, aberrant afterlife worlds, and strange mental disorders, the WHITE WARD sound adapts the expansiveness of instrumental jazz and the depths of existential despair. After recording their first full-length album, "Futility Report", and being signed to Debemur Morti Productions, WHITE WARD is primed to embark much further on their divergent sonic journey.
The band continues to evolve and change directions with their second release, "Love Exchange Failure". Dark-jazz aesthetics appear more vibrant and deeper than ever before, while elements of blackened death, prog, and black metal scream out in an intense fury over vicious blast beats, courtesy of new drummer Noctum! Recorded at Checkpoint and Lipkyzvukozapys studios, "Love Exchange Failure" boasts the bands most lush and professional sound to date. 
Lyrical themes explore new dimensions, diving into the abyss of human psyche instead of creating Lovecraft-inspired worlds. The atmosphere is still dark and dreadful, but it is no longer something abstract and unreal, with the problems discussed in "Love Exchange Failure" affecting everyone to some extent. 
With their newest record, WHITE WARD evolve and sink deeper into ebon pools of dark, auditory desolation.