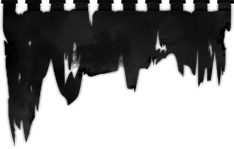 INFERNO came into existence in 1995 in the Czech Republic and the first demo offerings "Peklo Na Zemi" (1996) and "Temná Poselství Dávných Předků" (1997) met with significant acclaim in the Czech scene and beyond, opening many possibilities within the radical Black Metal underground of that time. The established contacts enabled the band to share the stage with Maniac Butcher, Eminenz or Impending Doom and realize several notable 7" LPs with iconic Moonblood or Celestia which were released or co-released by a cult label Sombre Records.
Other realized splits in the following years were with the kindred bands Maniac Butcher, Sezarbil, Infernal War, Apolokia, Fagyhamu, Tundra, The Stone, Front Beast, Amalek, Winter Blasphemer, Naburus, Sekhmet, The True Endless and last but not least with Devathorn. In the first decade of new millennium, INFERNO recorded two full-length albums of defiant, intolerant and warlike Black Metal "Duch slovanské síly" (2001, Eclipse/Sombre), "V návratu pohanství..." (2003, Old Legend/Terranis), raw and ominous "Nikdy nepokřtěni" (2006, Deathrune) and concluded the period of rabid Black Metal traditionalism with "Uctívání temné zuřivosti" (2008, Undercover) which merged the currents of old into a refined offering of triumphantly melodic yet aggressive Black metal.
2009 saw the release of crucial album "Black Devotion" (Agonia) which reshaped and regenerated the creative force within the band, prompting INFERNO to enter the well-known Swedish studio Necromorbus to seal cacophonic sounds and malevolent powers into the album entitled "Omniabsence Filled By His Greatness" (2013, Agonia/Avantgarde); Such step into the unknown paid off massively, imbuing the members with the will to overstep their self-imposed limitations.

In the following years, INFERNO performed on prominent stages around the world and secured the reputation of both savage and mystical live act. 2017 stood witness to a revelation of a monument dedicated to self-transformation and unconscious dialogue with the great other: "Gnosis Kardias (Of Transcension and Involution)" (World Terror Committee) which introduced INFERNO among the leading bands that redefine contemporary Black Metal art: A status that shall be affirmed further with the works to come.

In 2020, "Phosphenes Of Aphotic Eternity" will illumine the self-transcending currents beneath the strata of existence and the mind-bending soundscapes of INFERNO shall act as their aural mediator...
INFERNO is Adramelech (vocals), Ska-Gul (guitars), Morion (guitars), Armagog (bass guitar) and O. O. (drums).