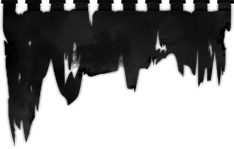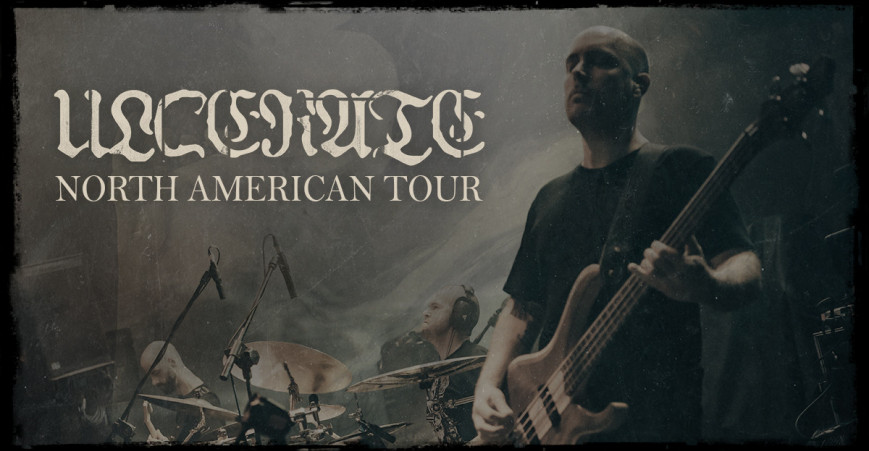 ULCERATE - Tour & DMP Anniversary Vinyl
"ULCERATE have spearheaded a singular sound and vision: seasick and disharmonic, chaotic and otherworldly, Lovecraftian in its cosmic horror." (Revolver)
Celebrating the 20-year anniversary of our label, we have teamed up with Le 7e Oeil to reprint several of our exclusive DMP vinyl slipcases for those who missed the original editions. This will be the last opportunity to own one of these. And to make it even more unique, these editions will come with an exclusive OBI strip designed - especially for this occasion - by Adrian Baxter (PARADISE LOST, BLACKBRAID).
Coinciding with ULCERATE announcing their forthcoming North American tour, we proudly unveil – as the first realisation of the reprint series – the "Stare Into Death And Be Still" DMP 20-year anniversary edition: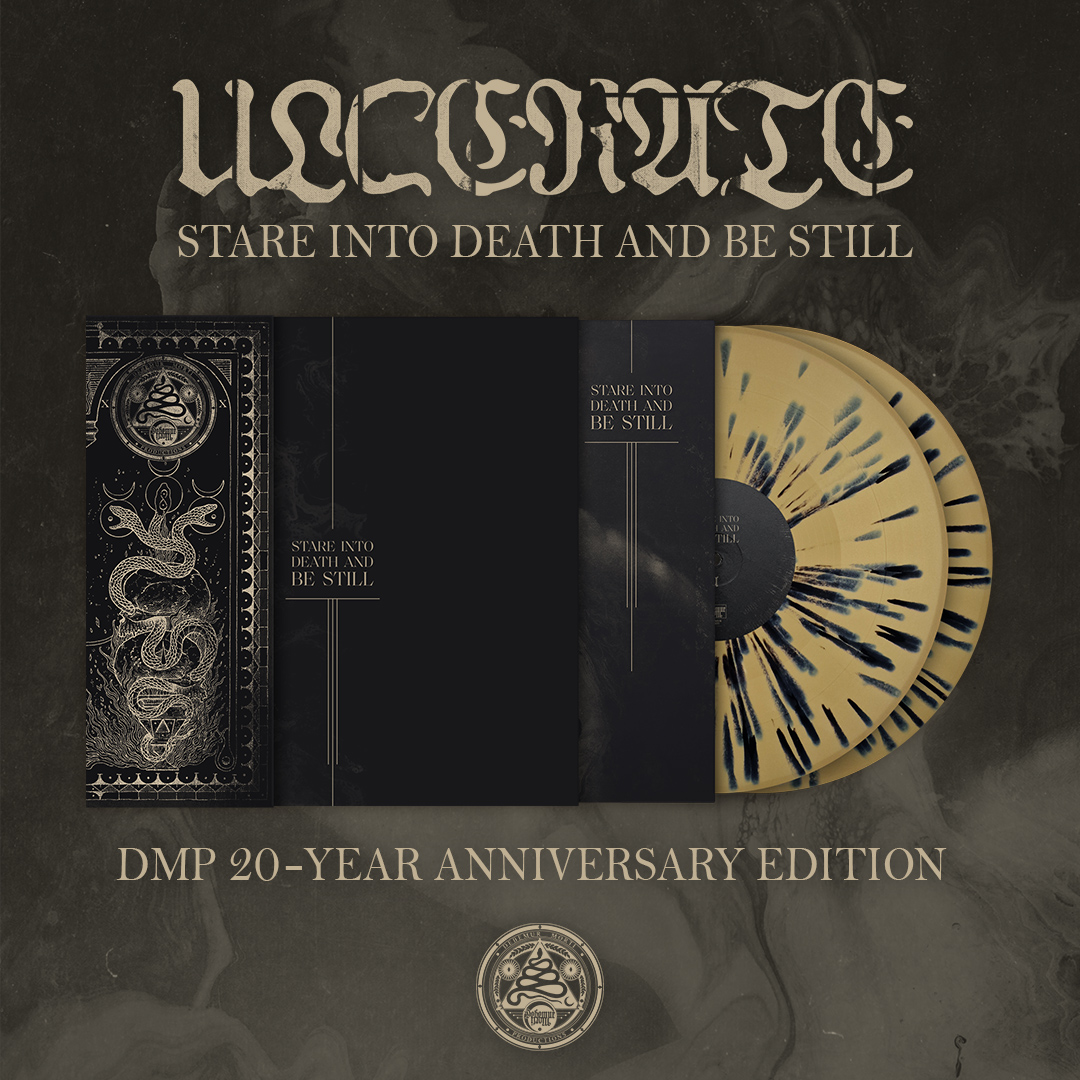 This version is limited to 150 copies and may be pre-ordered via our EU, US and Bandcamp shops.
Originally released in April 2020 and acclaimed as one of the best albums of that year, "Stare Into Death And Be Still" features nine claustrophobic Death Metal compositions filled with all-encompassing intensity and otherworldly musicianship. Listen to the album via Bandcamp below or on our YT channel:
The New Zealand Death Metal trio will finally make their return to North American soil for a headlining run this fall. The thirteen-date Stare Into Death North America MMXXIII Tour will commence November 7th in North Hollywood, California and close November 25th in Brooklyn, New York. Support will be provided by ALTARS.
Drummer Jamie Saint Merat comments:
"After three long years of pandemic interruption, we are very proud to finally announce the first shows on North American soil to showcase "Stare Into Death And Be Still". Originally booked for 2020, to finally have this come to fruition is nothing short of cathartic. Joining us as special guests are our Australian brothers ALTARS – together offering a deadly Antipodean assault that will truly be a sight to behold."
Tickets may be found here. See all confirmed dates below:
07.11.2023 – Knitting Factory - North Hollywood, CA
08.11.2023 – Neck Of The Woods - San Francisco, CA
10.11.2023 – Bossanova Ballroom - Portland, OR
11.11.2023 – Alma - Tacoma, WA
12.11.2023 – Rickshaw Theatre - Vancouver, BC
16.11.2023 – Reggies - Chicago, IL
17.11.2023 – Sanctuary - Detroit, MI
18.11.2023 – Hard Luck - Toronto, ON
19.11.2023 – Piranha Bar - Montreal, QC
21.11.2023 – Middle East - Boston, MA
22.11.2023 – Warehouse On Watts - Philadelphia, PA
24.11.2023 – Metro - Baltimore, MD
25.11.2023 – Saint Vitus Bar - Brooklyn, NY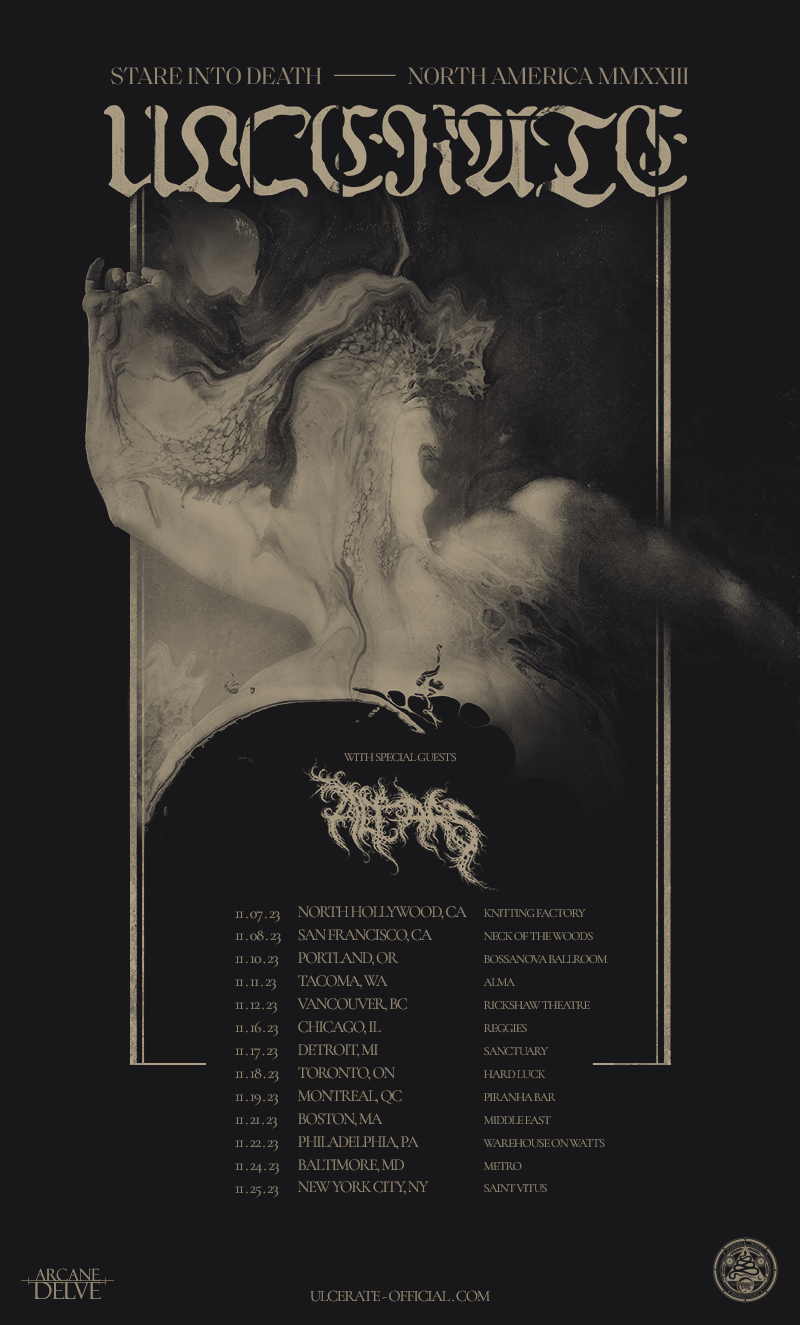 Live shot used as news graphic by elulu.
Posted on
07-25-2023
| Category: Ulcerate