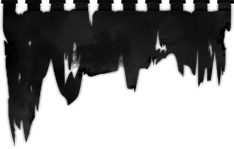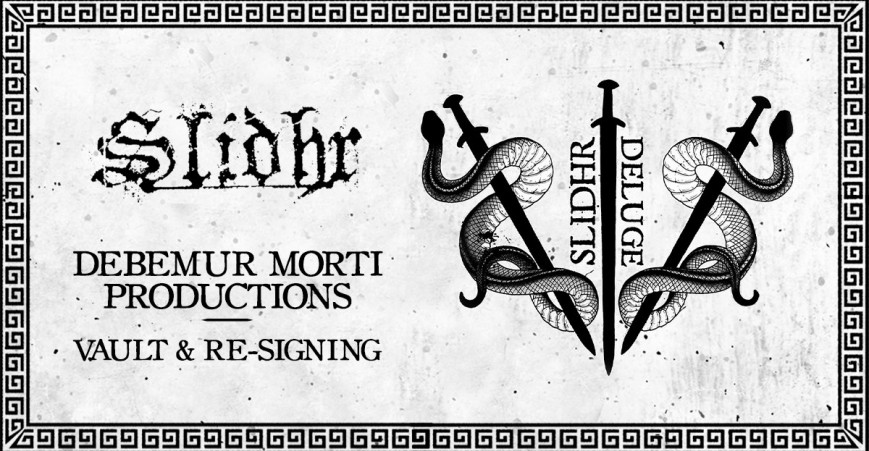 SLIDHR – Re-Signing & DMP Vault, Part V
We are pleased to announce that SLIDHR, one of Ireland/Iceland's premier Black Metal entities, has renewed its bond with Debemur Morti Productions for the follow up to 2018's "The Futile Fires Of Man".
The forthcoming record bears the title of "White Hart!" and is an intense trip into some of the most immersive misanthropy Black Metal music has to offer. Composer Joseph Deegan allows us a sneak peek at what's to come:
"I would describe our Art's aura as deeply honest and heartfelt. My blood boils with contempt for so much of this world that it can sometimes be difficult to focus on anything else. Thankfully I can channel these emotions into a creative endeavor such as this album. In the oversaturated pantomime that is today's Black Metal scene it can be near impossible to find sincerity. Whatever you may think of SLIDHR, just know that the passion is genuine.
Concerning the new album, you can expect a far more aggressive offering this time: full of passion, hate, venom and honesty. Most of the material was written between 2018 and 2019 and the recording process actually started a couple of years ago, but we only recorded our individual parts when the inspiration was strong and the fire was burning – particularly regarding the vocals, the passion needed to be high. Luckily, however, there has been a seemingly endless supply of fuel for what needed to be a spiteful performance. We live in interesting times…"
This announcement date was not chosen by chance: exactly ten years ago - on 24th May 2013 - we unleashed "Deluge", SLIDHR's world-darkening debut. Joseph recalls:
"The "Deluge" album holds some great memories. To begin with it was the first SLIDHR release that Bjarni played on and he has been such a huge part of what became 'our sound' on all the recordings that followed. Listening back, I still like what we did on that release. It was a bit of a departure from the first couple of recordings, but in a positive way. Of course, there are always things you would do differently in hindsight but that's how it should be I suppose."
To honor this important release from the formative years of DMP, the fifth part of our Vault series is dedicated to SLIDHR's exceptional debut album.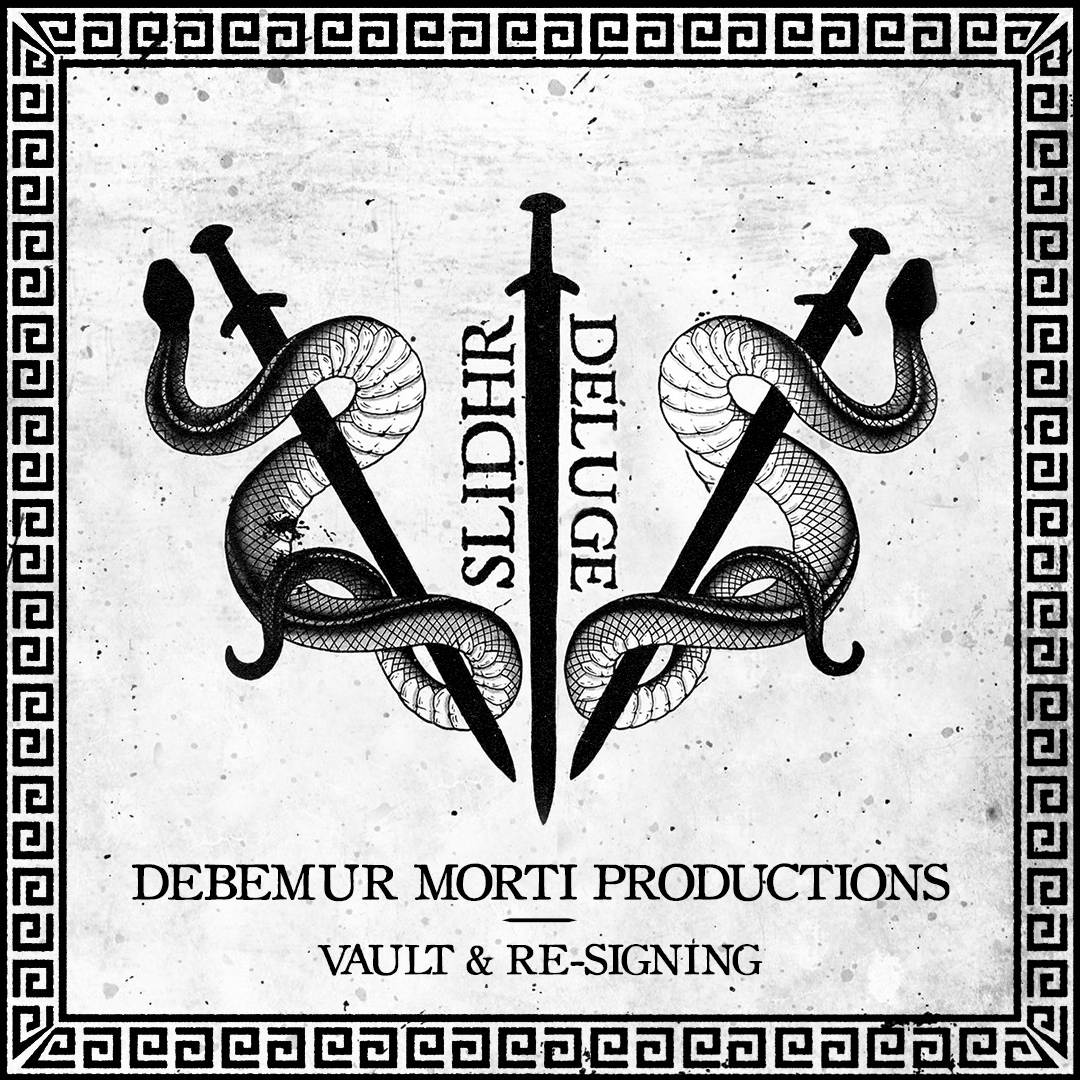 Formed in 2005 and hailing from Dublin, Ireland, SLIDHR is one of the country's most baneful Black Metal entities. The band's name derives from the Sliðr, a river flowing through Hel, the land of the dead in Norse mythology - a moniker which befits a powerhouse of the netherworld. Founded as a solo project by the uniquely creative artist, tattooist and bassist/guitarist/vocalist Joseph Deegan, the band has prioritised quality over quantity throughout their discography.
In 2006 – three years after launching DMP - we joined forces with SLIDHR for the cassette release of their debut, "Demo 1", a 15-minute introduction to orchestrated madness. During its short runtime, the demo accomplished more than many far-lengthier releases in a display of exceptional songwriting and dense, crushing soundscapes from an act that arrived fully formed.
Today marks a special moment in DMP history: 10 years to the day that DMP released "Deluge", SLIDHR's first full-length album.
By this point featuring revered Icelandic drummer Bjarni Einarsson (SINMARA, ALMYRKVI), the band takes a familiar no-prisoners approach. First track 'Wielding Daggers' opens with a minute-long muted build-up until the listener is hit by a radical shift, a bass-driven blast which clutches your throat and does not release grip for the almost-50-minute runtime. "Deluge" is organised chaos at its finest – each instrument strategically interlinked to create an enigmatic, harsh and iron-hearted atmosphere. Songs are an organic, all-encompassing tour-de-force built up from layers of sinister angular riffs and melodies, hellacious vocals and ever-changing tempos and moods.
SLIDHR's compelling instrumental performances are amplified by production choices which enhance the album, giving balance to each instrument to ensure listener immersion. The progression of the album is also noteworthy: "Deluge" commences at a consistent pace, each track heightening a fiercely dark and suffocating atmosphere as they build towards closing piece, 'Rays Like Blades', which perfectly completes the record, highlighting all its strengths and leaving the listener wanting more.
Following the release of "Deluge" SLIDHR released a subsequent EP, two split releases and in 2018 a second full-length "The Futile Fires Of Man" via Ván Records. Recently SLIDHR's line-up has been expanded to feature Stefan Dietz on bass for the recordings of "White Hart!", it appears the best is yet to come.
Posted on
05-24-2023
| Category: Slidhr