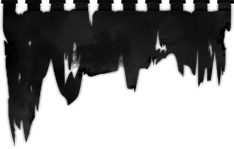 THE LOVECRAFT SEXTET unveil second track
Allowing a second glimpse into the forthcoming album, THE LOVECRAFT SEXTET unveil the new composition 'Miserere [Opus III]-Sanctum'. The song is defined by sorrowful instrumentation and the expressive as well as versatile female vocals of Jason Köhnen's long-time collaborative partner Lilian Tong. By adding eerie and sinister saxophone, noise and ambient elements, the track transforms itself from a neoclassical piece into a Jazz noir mélange. Composer Jason Köhnen narrates on the conceptual background:
"The song opens with a lamentation and gradually progresses to repentance and the penitence of sin. With this composition I tried to transpose religious expressions into a specific musical journey … a confessional journey of a heretic. I composed the classical part and instructed Lilian Tong on the theme and emotion for the song. She is singing a specific part of Psalm 51 which reflects on the concept of the 'Sanctum' piece. As a classical trained soprano, Lilian is incredibly fine to work with, she really understands the vocal desperation needed for this song."
Check the song and the accompanying video below:
The images used to create the clip stem from the 1928 classic French silent movie, "The Passion Of Joan Of Arc / Le Passion de Jeanne D'Arc". Jason comments:
"When I was composing this song, I had the images of this film as inspiration. There is an intense lingering sadness, denigration and degradation in this movie that weighs really heavy. It carries this profound load of injustice and suffering … but in the end the relief and the acceptance of death for staying true to one's convictions. It's incredibly bittersweet and tells that same story of repentance which is the concept of 'Miserere'. There is nothing more powerful than someone willing to die for their beliefs and their convictions. The earthly suffering for universal truths."
"Miserere" will be released on CD, vinyl and digitally on October 7th. Pre-orders for the album are possible via our EU, US and Bandcamp stores.