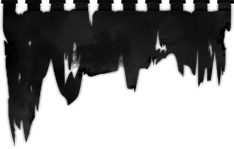 PESTILENT HEX – "The Ashen Abhorrence" released
Building a hypnotic netherworld from the shadowed groundwork of the 90s Scandinavian Black Metal scene, PESTILENT HEX created a mesmerizing and bedeviled debut. The album balances enthralling complexity and songwriting acumen through evocative vocals, elegant synth layering, shrewd drumming and intensely melodic earworm guitar-work.
Vocalist M. Malignant comments:
"For me, the album could be summarized with the adjectives 'nostalgic' (yes, the music takes me to a very specific and important era of our past), 'ghastly' (as the whole album seeps otherworldly atmospheres and reflects certain spectral emanation) and perhaps 'adventurous' (as the writing and music takes interesting turns and paths). When listening to the different mixes during the process of creating the album, I often found myself loading the tracks to my phone and going on long solemn walks in the forests and into the more rural surroundings, while blasting the album in my headphones. This has, of course, left a permanent imprint on me and I still get the sensation of nocturnal nature from the album, which is also an important part of the lyrics as well. But now that the album is finally out on physical media, my intention is to place the vinyl into my record player, let the needle hit the grooves and absorb the full experience with a strong & dark Stout beer accompanying it."
"The Ashen Abhorrence" is officially released and can be listened to via Bandcamp or on our YouTube channel:
PESTILENT HEX' debut immediately caught the attention of the metal press:
"Death Metal stalwarts they may be but here, the two talented Finns of L. Oathe and M. Malignant have come together to create a masterful collection of melodic and symphonic Black Metal that recalls the mid-late 90s perfectly […]" (Man Of Much Metal)
"The album flows like frozen malice as it unfolds in all of its dark majestic grandeur. The symphonic aspects add real value to the songs, while remaining unobtrusive to the blackened groove and searing blast beats." (Wonderbox Metal)
"If you like dramatic and engaging keyboard-laden Black Metal grandeur, this album will blow you away from start to finish." (Infernal Masquerade)
PESTILENT HEX' debut is available on CD, vinyl & digitally. Orders for the album and a t-shirt design (men/women) are possible via our EU, US (no merch) and Bandcamp shops. Check the flyer below: