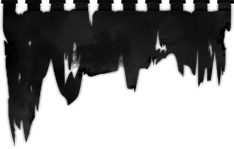 WHITE WARD unveil lyric video
"Frigid birds fly onward the north, surpassing the distance and gravity
They yet don't know that there is no home, no place to build a nest
The rest no longer matters; the sacred land fell prey to fire
And someone's evil will" (lyrics taken from 'Phoenix')
Denoting the importance of the conceptual layer in their Art, Black Metal innovators WHITE WARD created an emblematic lyric video for their song 'Phoenix'. The burning tree operates as a symbol for the true and gruesome story of nature's destruction and the abuse of power. However, as the phoenix rises from the ashes, hope must never be abandoned.
Giving musical life to this narration, WHITE WARD perfected their uncanny formula of merging the harsh aggression of Black Metal fury with melodic as well as dramatic guitar arrangements, subtle saxophone elements and spoken passages. Watch the clip below and immerse yourself in the cosmos of 'Phoenix':
The 3D animation was done by Gabriele Panci, while Stepan Burban/Palindrom took care of the video editing.
Composer Yurii comments on the video:
"The tracks 'Phoenix' and 'Cronus' from "False Light" are both based on real and tragic events. The song 'Phoenix' tells the story of Kateryna Handziuk, a Ukrainian activist, involved in the investigation of the purposeful mass forest fires in the Kherson region that were sanctioned by local officials with ties to organized crime. 2018 saw an acid attack and the subsequent hospital death of Kateryna. We decided to create additional content for these songs to motivate people so they would dig deeper into the lyrics and themes of the compositions. The reason why I mention two tracks is the fact that we planned to make a music video for 'Cronus' as well. However, our plans were destroyed by war…"
"False Light" was released on CD, vinyl and digitally with fitting merch on June 17th. The album is available from our EU, US and Bandcamp shops.
Reminder: Due to the Russian attack on Ukraine and the ongoing war, the lives of WHITE WARD's fellow Ukrainians, friends and families have been shattered and destroyed. If you want to support them and a country in need, you can do so by donating money to Save Life. The institution was chosen directly by the band.