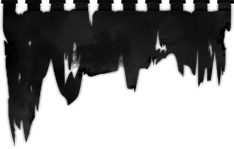 LIGHT OF THE MORNING STAR - Track-By-Track, Part IV
With a sinister groove and haunting keyboard elements, LIGHT OF THE MORNING STAR open their fourth composition 'Hymn In Hemlock'. Mastermind O-A's vocals are subtly mixed into the background, hence further intensifying the creepy and doomy atmosphere. Nevertheless, on 'Hymn In Hemlock' LIGHT OF THE MORNING STAR also do not shy away from epic moments full of sinister grandeur which could stem directly from the great Gothic novels of the 19th century.
Composer O-A narrates extensively about the background of 'Hymn In Hemlock':
"Without BABYLON WHORES there would be no LIGHT OF THE MORNING STAR. A radiating, outsider force of dark inspiration, whose current set the foundations for not only what LIGHT OF THE MORNING STAR should be, but also influenced so much of my approach to Art. BABYLON WHORES are a central pillar of sinister, gothic treasure for LIGHT OF THE MORNING STAR, who existed in their own realm, as shadowy mavericks unfazed by the external, mundane world. And at the core of BABYLON WHORES' vision sat Ike Vil, an academic occultist (or gutter alchemist, as he may put it) of the highest order. One of the finest lyricists to ever live, and now singing for SLEEP OF MONSTERS, Ike helped pen the words for 'Hymn In Hemlock'. With views to resurrect the oldest of spirits, the song is a pitch black declaration of ancient nekromantaeia; a codex alluding to methods of the darkest kinds of magic, and a pathway set with perilous thorns."
Listen to 'Hymn In Hemlock' below:
"Charnel Noir" can be ordered via our EU, US and Bandcamp shops.