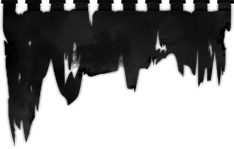 LIGHT OF THE MORNING STAR present second track
Three weeks before the official release of their second album "Charnel Noir", LIGHT OF THE MORNING STAR unveil their new composition 'There Are Many Shadows'. Atmospheric and truly sinister, this song displays the band's adoration for dark Gothic Rock with a deadly twist. Though hints of Black Metal influences are present, the dynamic songwriting as well as the flamboyant fascination for subtle melodies and whispery vocals define their composition. Those who adore the eerie beauty of a great Gothic novel will immediately fall prey to LIGHT OF THE MORNING STAR's sinister magic.
Listen below via Bandcamp and on YouTube:
In essence, 'There Are Many Shadows' captures the feeling of dread and horror when being haunted in an old, abandoned Victorian manor. Those who are aware of Black Metal's finest might find a mysterious reference here…
"Charnel Noir" will be released on CD and digitally on October 1st. The vinyl version will be available on December 10th. Pre-orders are possible now via our EU, US, and Bandcamp shops.