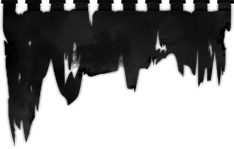 T-Shirt
Printed on 100% organic "Continental Clothing" black shirts. XS to 2XL in heavy cotton (190g/m2). 3XL in 155g/m2 cotton. Classic fit. Check images for size chart.
Digipack CD
A compilation of early WHITE WARD material leading up to their debut record, "Origins" is more than a hint of greater things to come, these nine tracks evincing their own merits through an uncompromisingly despondent blend of stygian atmospheric black metal, post metal, and dark ambient. Moody spoken word and notes of somber jazz recall gloomy walls of rain and the rotting thoroughfares of darkened alleyways in a dismal omnibus which will appeal to die-hard fans and newcomers alike. Opening with a standout re-recording of "Walls", the first WHITE WARD song ever written, and featuring tracks from the 2012 EP "Illusions" the 2014 split release with SAUROCTONOS and SILENCE OF THE OLD MAN, and the previously unreleased "Riptide" EP, "Origins" offers an unfiltered glimpse into the minds that would eventually craft such masterworks as "Futility Report", and "Love Exchange Failure".
Comes in a 4-panel digipack with a 16-page booklet. First batch comes in black polycarbonate CD. Once sold out, there will be no repress.