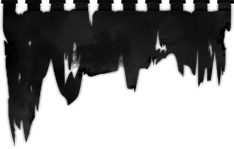 Reference:
DMP0237-LPLTD2
DMP Exclusive - Silver edition
Slipcase Gatefold 2x12" LP
This special edition comes with an exclusive embossed, silkscreened hand-printed and numbered slipcase as well as a download card. Front side of the slipcase features an embossed medallion design. Back side features a silver color print. Pressed on silver heavy vinyl. Limited to 75 copies. Side D contains no music but features a black screen print. Only available from us. 1 copy per order/customer maximum. Colors on final records may vary to a degree from the mockup.
SÜHNOPFER, hailing from France, return with their most fully realised release to-date of blasting, emotive, edge-of-seat Baroque Black Metal.
"Nous sommes d'Hier", the band's 4th full length since formation in 2001, finds sole member and multi-instrumentalist Ardraos continuing to explore a medieval universe in his quest to restore the tarnished glory of the Bourbons - marching between the Middle Ages and the modern era to weave compulsive tales of dark times, remembered legends and places that resonate with the death of an age.