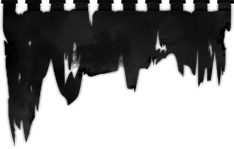 30 Years Of Devil Worship - Paris
Archgoat
Poster
Attention : considering this will ship in a special mailing box, do not order CD's nor vinyls with this poster. Only posters and/or t-shirts. Nothing else will fit in the box.
Artisanally screen-printed on Arches 250gsm black paper with deckled edges. 100% coton. 2 colors print. Limited to 50 hand-numbered copies.
Size : 46x65cm / 18.11x25.59 inches

Art by Chris Moyen.
Print by Le 7e Oeil.