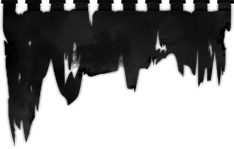 Cassette
Black shell with 6-panel J-Card in a clear box. Limited to 50 copies. Comes with a download code. The digital download includes an exclusive instrumental version of the album as bonus. Color on final cassette may vary to a degree from the mockup.
ERSHETU was formed in 2021 by conceptualist/lyricist Void and composer Sacr to create cinematic music which merges epic, obscure and atmospheric Metal with the poignant dramaticism of film scores.
Evocative debut album "Xibalba" - which focuses upon Mayan folklore - revolves around an impeccable orchestral core swathed in folk instrumentation, from which the unmistakeable impassioned singing and entranced chanting of Lars Are Nedland (BORKNAGAR, SOLEFALD) soars skyward before cascading down into an arid undertow of textural Black Metal guitars performed by Vindsval (BLUT AUS NORD).
T-Shirt
Printed on high quality 100% organic black shirts. Classic fit. Check images for size chart.