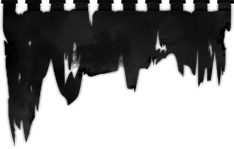 Gatefold 12" LP
Pressed on black heavy vinyl. Comes with an A2 poster and a download card.
"Nahab" - the second part of the Disharmonium cycle - finds BLUT AUS NORD returning, as if by compulsion, to the Weird nightmarish otherworlds of H.P. Lovecraft to reflect them through a new mirror of terrifying Black Metal lunacy.
In the dead-eyed trance of one demonically summoned, the band has once again channelled esoteric folklore and modern violence into another phenomenal slice of outsider art which befits its own Mythos and monstrosity. A Crowning Horror indeed.
Women T-Shirt
Printed on high quality 100% organic "Stanley Stella" black cotton shirts. Medium fit. Check images for size chart.
Please note this will be printed on demand and will require approx 15 days for processing. If your order contains other items, all will be shipped in one parcel when everything is available. All print on demand merch orders are final : returns or cancellations are not accepted unless there is a defect or error from our side. In case of stock shortage, we may use a garment of similar quality/sizing from a different brand.