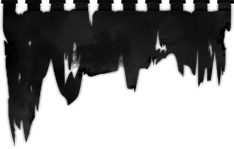 INFESTUS : Album details disclosed
The title, artwork and full tracklisting of INFESTUS' forthcoming third album are finally disclosed. Mastered at Necromorbus Studio, "E x | I s t" is an examination of the emptiness, numbness and futility of life. Bleak, hypnotic, obscure and eerie, "E x | I s t" is a harrowing cocktail of anguished, emotive Black Metal despondency. The impressive front cover drawing was executed by French artist Eric Lacombe. A bigger size is viewable here. Tracklisting is as follows:


1. Akoasma
2. Down Spiral Depersonification
3. Darkness Blazing In The Flame Of Fire
4. Torn Observer
5. Mirror Mind Reality
6. Der Blick hinaus

7. Descend Direction Void


The album will be available on CD on May 16th (May 17th in North America). The CD can be pre-ordered now via our webshop at www.eitrin.com. Customers who avail of the pre-order option will qualify for free postage worldwide.

Last but not least, we'd like to take the opportunity to mention that Eric Lacombe is exhibiting his work in Paris from March 3rd until March 19th at the Galerie Lazarew. Entrance is free. Flyer to your right.
Posted on
03-01-2011
| Category: Infestus
430
LEAVE A COMMENT