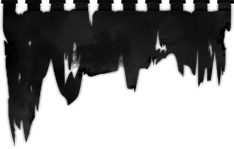 T-Shirt
Printed on high quality 100% organic black shirts. Classic fit. Check images for size chart.
Please note this will be printed on demand and will require approx 15 days for processing. If your order contains other items, all will be shipped in one parcel when everything is available. All print on demand merch orders are final : returns or cancellations are not accepted unless there is a defect or error from our side. In case of stock shortage, we may use a garment of similar quality/sizing from a different brand.
Gatefold 12" LP
Pressed on black heavy vinyl. Comes with a 2-page insert and a download card.
Formed in 2001, Metal-lifers POWER FROM HELL from São Paulo, Brazil arrive on DMP in a style befitting the label with their fantastically obscure 7th full-length "Shadows Devouring Light".
The band's raw Black/Thrash sound of yesteryear has given way to a darker, more complete path within Black Metal: blending the primitive, lo-fi mysticism of the first wave, the unearthly melodic conviction of the second wave and the dissonant arpeggiation of modern innovators in a firestorm of rousing, hair-whipping songcraft.