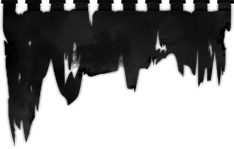 3 results have been found.
blut aus nord

Gatefold 12" LP Deus Salutis Meæ ("God of my Salvation") is the truly mesmeric new emission from BLUT AUS NORD, the great Black Metal innovator renowned for disdain toward convention and a murderous relationship with boundaries. Using frightening alchemy and predatory cruelty, BLUT AUS NORD fuses each distinct era of its 23 year existence with...

throane

Digipack CD The second full length from THROANE is the most fully realised vision of enigmatic photographer/illustrator/designer Dehn Sora (BLUT AUS NORD, ULVER, DEATHSPELL OMEGA). One of the most stunning trips of the year, Plus une Main à Mordre ("No Hand Left to Bite") seeks balance between the struggle and the letting go, passing from chaos to quiet...

terra tenebrosa

Slipcase Digipack CD This reissue comes in a Digipack packaging with original artwork encased in a slipcase with new artwork crafted by Dehn Sora. An exclusive "tarot" card is included with all copies. Audio content is identical to the Trust No One Recordings version.In 2013, two years after nightmarish first album "The Tunnels", TERRA TENEBROSA went a...