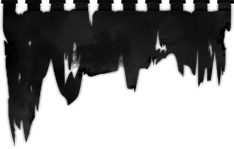 Gatefold 2x12" LP
"Harps Of The Ancient Temples" is Black Metal from a lost time, from a time far, far way, from a time that is literally ancient. It's an ancient darkness that envelops and hypnotizes the listener, recasting NOCTERNITY's elder Scandinavian and Greek BM influences through a prism that refracts no light, but rather absorbs it. Whereas the band's earlier work maintained a windswept, almost cinematic scope and high drama, here on "Harps Of The Ancient Temples", the pulse is pulled back to a near-catatonic state, dripping with atmosphere and stripping it down to the barest, purest obsidian.

"Harps Of The Ancient Temples" brims with the Black Metal Feeling - and a special one, at that. Over the course of 50-some minutes and across eight titan tracks (and a bonus one), the album transports the listener to another realm, offering a total sensory experience like few other black metal records have in the past 15 years. In fact, with NOCTERNITY's roots planted in 1997, "Harps Of The Ancient Temples" fully harks back to the early '90s wave of Scandinavian and Greek BM, with no self-consciousness whatsoever: simply, they LIVE it.

All copies come with screenprinted D-side, printed innersleeves & A2 poster.
Released by Iron Bonehead Productions.