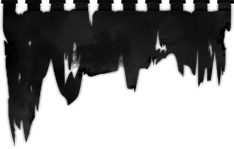 Epitomes of darkness
The first part of the "777" trilogy, "777 - Sect(s)" is now available in both Digipack CD and Gatefold 12" LP (gold or black record). As previously announced, a t-shirt design was made for this specific release and is also available now.
In order to respect all those who pre-ordered these items independently, we're not offering bundles this time.
A preview of the amazing vinyl edition can be seen by clicking the thumbnails to your right.


All three items can be obtained via our webshop at www.eitrin.com.
As a reminder, the second part of the trilogy, "777 - The Desanctification", is due out this coming September. Watch out !

Also available now is the new INFESTUS album, "E x | I s t", in CD format. If you didn't check them out so far, "E x | I s t" is streaming in full at www.blistering.com along with a detailed track-by-track description written by Andras (in English).
A bundle offer containing both "E x | I s t" and "Chroniken Des Ablebens", INFESTUS' previous full-length, is available now via our webshop for 20 EUR (postage paid worldwide).