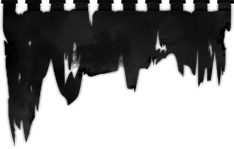 First epoch 1992 - 1999:

WALLACHIA came into existence 1992 in Steinkjer, central Norway as the one-man project of Lars Stavdal. After a few years composing solo, in 1995 Lars met Eystein Garberg (guitarist in Folk Metal band Lumsk) and as a duo they entered a 24-track analog studio and recorded WALLACHIA's debut release "Demo 1996", a self-financed cassette with a first edition of 200 copies, subsequently repressed in an edition of 500.

The sound of WALLACHIA is filled with melancholy; sombre and symphonic, epic, majestic and utilising gothic elements conceptually inspired by legend and myth from the lands of Wallachia and Transylvania. The artwork for Demo 1996 featured photographs of Transylvanian castles and Carpathian nature taken by Tamás Vámosi from the Hungarian Transylvanian Damnation fanzine, with layout by Einar Sjursø from Norwegian band Beyond Dawn.

In 1997 WALLACHIA signed with French label Velvet Music International, who initially released "Wallachia", a MCD version of their demo. By 1999, WALLACHIA was once more the solo-project of Lars Stavdal who commissioned two drummers - Lars Erik Vesterdal & Mikael Duna - to equally share drum-recording duties with him on WALLACHIA's debut full length.

Although debut album "From Behind the Light" was released by VMI in September 1999 in a limited CD pressing, the label unfortunately disbanded shortly afterwards. With the demise of the label, WALLACHIA was also put on hold.

Second epoch 2004 - present day:

In the fall of 2004 "From Behind the Light" was re-released on cassette via the Ukrainian label Night Birds Records, run by Roman Sayenko from legendary bands Drudkh and Hate Forest. The following year a CD re-press was also issued by US label Dark Horizon Records. Both cassette and CD versions had the Demo 1996 songs as bonus tracks.

Although beneath the surface for some years, Lars had continued to compose material for a second WALLACHIA album. In 2006 the band was truly resurrected when Lars began working with friend Paal André Sandnesmo, recording instrumental pre-production for the entire 2nd album within a short time. The pre-production demo led Stefan Traunmüller from Austrian bands Golden Dawn & Rauhnacht to offer assistance recording and producing, he also brought in drummer Thomas Kocher who has been with the band ever since.

"Ceremony of Ascension" was recorded summer 2008 and WALLACHIA signed a contract with German label Twilight Vertrieb who released a CD version in April 2009. The album received good feedback, both for the musical advancement and also for the stunning artwork by Romanian artist Laura Sava. Regrettably the album befell a similar fate to the debut, as the label folded a few months after the release.

In summer 2012 WALLACHIA re-entered the studio and recorded their 3rd opus entitled "Shunya". The album was recorded by the same line-up and production team as previously but this time included real orchestral strings performed by Caroline Oblasser (cello) and Anna Oklejewicz (violin & viola). Artwork was once again provided by Laura Sava, a perfect match for the gloomy and melancholic sides of WALLACHIA 's music.

WALLACHIA signed with Debemur Morti Productions and "Shunya" - the most epic and ambitious recording from WALLACHIA to date - was released in November 2012.

Fast forward to August 2015 and the band performed their first ever concert at Dark Bombastic Evening VI, a 3-day festival at a fortress in Transylvania - the most perfect location imaginable. Two new members were added for WALLACHIA 's live performance - Romanian born Grolig Maddox from Edge of Night and Path11 on lead vocals, and drummer Thomas Leitner from Irdorath and Groteskh.

With this full line-up the band recorded a 3-track EP named "Carpathia Symphonia" consisting of one exclusive new song + re-recordings of two older songs with new arrangements and lyrics translated from Norwegian to English. The new EP was released digitally on 21 August 2015 and will be physically released in fall of 2015 by DMP alongside re-issues of WALLACHIA's first two albums on 2xCD and gatefold 2x12" LP.

WALLACHIA are currently in the first phase of recording a new album entitled "Path of Satya" which is shaping up to be the longest, most epic and savage recording they could possibly produce. The album includes already-recorded guest performances by Athelstan from UK band Forefather and Cristina from Italian bands Nahabat and Xvarhnah.

"Path of Satya" is scheduled for release in summer 2016 via Debemur Morti Productions.