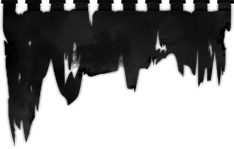 BACCHUS is a project formed by Moïse Mestriaux and Sébastien B. (DYSYLUMN, ABYSSAL VACUUM, OMINOUS SHRINE) with the objective of experimenting with songwriting using electric guitars and bass over a synthesizer base in early 2020. Camille Olivier F.B. (DYSYLUMN, Y I Y) quickly joined the project behind the drums and was then put in charge of sound engineering and production.
Initially inspired by bands like RHINOCERVS, RINGARË, FLUISTERAARS, URFAUST or BLUT AUS NORD, BACCHUS officiates in an atmospheric Black Metal with dark, cavernous and monolithic parts sparingly integrated. It's a deep, melancholic and dreamlike journey that explores the decadence of Roman mythology.
A first self-titled EP was released at the end of 2020. The debut album will be released via Debemur Morti Productions in 2023.