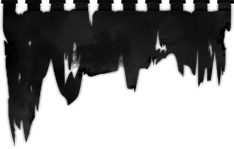 POWER FROM HELL from São Paulo, Brazil were formed 2001 by main-songwriter Sodomic (ANARKHON) as a raw and primitive studio-only vehicle for early-Bathory worship, flourishing for 10 years without live activity and releasing a series of cult underground records: "The True Metal" (2004), "Sadismo" (2007) and "Spellbondage" (2009).
In 2010 the band began to draw worldwide attention when Fenriz from DARKTHRONE revealed himself to be a big fan, regularly wearing a shirt of "The True Metal" and highlighting the band in a succession of interviews and articles. POWER FROM HELL capitalised on the subsequent buzz, growing immeasurably over a well-received sequence of EPs, splits and full-lengths including "Devil's Whorehouse" (2015, Hells Headbangers) and "Profound Evil Presence" (2019, High Roller).
After 20 years, with the band now an established touring entity, the raw Black/Thrash sound of yesteryear gave way to a darker, more complete path within Black Metal, leading to a newly-formed alliance with Debemur Morti Productions. The band's next album will be released on September 30th, 2022 and promises to scour the depths of the abyss to bring forth what is most disgusting, profane and terrifying to human experience.