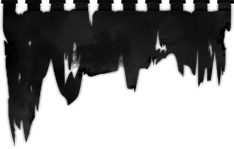 OCTOBER FALLS was formed ten years ago by M. Lehto and the early releases "Tuoni" and "Marras" were dark acoustic music without the harsher elements. Released in 2003, "Tuoni" contained all acoustic music with similarities to old ULVER, late EMPYRIUM and maybe even TENHI.

A year and a half later, in 2005, the second official release and the first full-length, "Marras", was released. The music was still classical guitar oriented, all acoustic, but piano was used a bit more.

The harsher elements were first introduced on the third official release - the band's Debemur Morti Productions debut, "The Streams of the End" mini-album - and have since been the key element of the current musical approach. Blending folk sensibilities with harsh Black / Pagan Metal, OCTOBER FALLS had found a new niche.

More significant steps were taken towards the harsher material a year later with the second full-length album, "The Womb Of Primordial Nature", which also welcomed M. Tarvonen (MOONSORROW) behind the drum kit for the first time.

Two years later, the same line-up was gathered again and the third full-length, "A Collapse Of Faith", was recorded and released. That recording was without doubt OCTOBER FALLS' most mature effort so far, but also the last one with that line-up, as V. Metsola - the bassist since "The Streams of the End" - decided to leave after the album was released and the writing of new material had started.

The current musical style is a mixture of atmospheric acoustic music and harsher Black Metal-oriented material and could be compared to early acoustic ULVER, DRUDKH and PRIMORDIAL blended together with a personal touch and strong melodies. Still, the early acoustic side has not been completely abandoned; there have been occasional acoustic releases through the years and there will also be similar releases again at some point on the horizon.
March 2013 saw OCTOBER FALLS uncage their latest and greatest full-length album. Once again released through Debemur Morti Productions, "The Plague Of A Coming Age" represents a step forward from the previous records, presenting shorter songs and more varied material, with the bass player S. Hinkka (ENSIFERUM) stepping in.