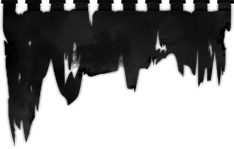 Established in Paris in 1994, DIRGE has spent the last two decades in a state of constant redefinition, consistently crafting poignant and multi-faceted metal, subverting expectations, and defying genre conventions.
Their demo releases were firmly rooted in harsh industrial and noise stylings, which were further refined on their debut release, "Down, Last Level". From there, DIRGE began diversifying their sound and weaving in many eclectic influences, crafting a style all their own, and becoming early forerunners of what would later come to be known as post-metal. The following releases each revealed a new facet of the kaleidoscope, the psychedelic doom-laden passages of "And Shall the Sky Descend", the tribal ambience of the double album "Wings of Lead Over Dormant Seas" featuring the titanic one-hour title track, and the cold, lethargic melodies of "Elysian Magnetic Fields". From there, DIRGE embarked on a successful European touring cycle, before signing with Debemur Morti Productions in 2014 and releasing "Hyperion", a grandiose summation of all that came before and an omen of all that would follow.
Now, in the waning stages of 2018, DIRGE proudly reveal their latest work, "Lost Empyrean". The product of over two and a half years of writing and composition, "Lost Empyrean" is a majestic and masterful piece of atmospheric music. Equal parts crushing and graceful, DIRGE's seventh release provides further testament to their ceaseless ability to reinvent and elevate themselves with every record.