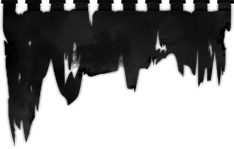 AU CHAMP DES MORTS started up in August 2014 when Stefan Bayle (ANOREXIA NERVOSA) and Migreich (VULV) first met during an underground festival in France.

Since summer 2016, AU CHAMP DES MORTS is evolving as a trio composed by Stefan Bayle (guitars and vocals), Cécile G. (bass and vocals) and Wilheim (drums), the latter two had joined the band in 2015.

From the very beginning, AU CHAMP DES MORTS unveils an extremely assertive personality, forged in analog sound and integrity, deeply rooted in the underground and backed up by solid musical foundations, including post black metal, old school black metal, early hard rock and cold wave.

In less than one year, AU CHAMP DES MORTS composed more than one hour of profound and lively music, the band eventually recorded its first demo "Le Jour Se Lève" in October 2015.

Then, its first album "Dans la Joie" has been recorded in june 2016 at Drudenhaus Studio (ALCEST...) and was released on january 2017. This publicly acclaimed effort contains 7 astounding manifestations of wonderful contemporary Black Metal.

Now, the band is focusing on new material and preparing what should be AU CHAMP DES MORTS live.